| | |
| --- | --- |
| Vectura nr | 150168 |
| Emballasje | Glassflaske |
| Antall | 24 |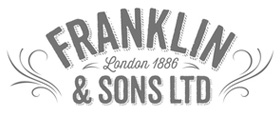 Franklin & Sons Rosemary Tonic w/ black olive
England
Type: Alkoholfritt, DrinkmixSoftdrink
Produsent: Global Brands Ltd/Franklin & Sons Ltd
Produkt:
Our Rosemary Tonic Water with Black Olive has a gentle aroma and is a perfect partner to both a sweet and savoury spirit selection. The bitterness of the olive beautifully balances the sweeter notes typical in fortified wines such as Sherry, Port and Vermouth or mixed with herbaceous gin.
Produsent:
Global Brands er ledende innen drink-merkevarebygging både som eier, markedsfører og distributør til en samling drikkevarer på tvers av RTD , brennevin, brus og øl kategorier.
Global Brands ble grunnlagt i England i 1997, og har stor suksess på det britiske markedet. Franklin & Sons softdrinks ble først opprettet av brødrene, George Frederick and Albert Franklin i 1886. Fra a produsere og distribuere softdrinks og tonics fra en liten butikk i Rickmans - la brødrene ut på et oppdrag for å introdusere Victorian Britain med nye smaker og smaksopplevelser hentet fra hele verden.