| | |
| --- | --- |
| Vectura nr | 163378 |
| EPD nr | 6010755 |
| Emballasje | Glassflaske |
| Antall | 24 |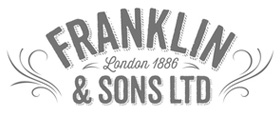 Franklin & Sons Rose Lemonade
England
Type: Alkoholfritt, DrinkmixSoftdrink
Produsent: Global Brands Ltd/Franklin & Sons Ltd
Produkt:
English rose petals, lemon juice and sparkling water are blended to make this floral twist on our 1886 Original Lemonade. Perfect over ice for any occasion or an essential cocktail ingredient.
Produsent:
Global Brands er ledende innen drink-merkevarebygging både som eier, markedsfører og distributør til en samling drikkevarer på tvers av RTD , brennevin, brus og øl kategorier.
Global Brands ble grunnlagt i England i 1997, og har stor suksess på det britiske markedet. Franklin & Sons softdrinks ble først opprettet av brødrene, George Frederick and Albert Franklin i 1886. Fra a produsere og distribuere softdrinks og tonics fra en liten butikk i Rickmans - la brødrene ut på et oppdrag for å introdusere Victorian Britain med nye smaker og smaksopplevelser hentet fra hele verden.