| | |
| --- | --- |
| Vectura nr | 150166 |
| EPD nr | 5534342 |
| Emballasje | Glassflaske |
| Antall | 24 |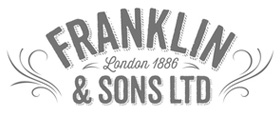 Franklin & Sons Rhubarb Tonic w/ hibiscus
England
Type: Alkoholfritt, DrinkmixSoftdrink
Produsent: Global Brands Ltd/Franklin & Sons Ltd
Produkt:
The finest rhubarb provides abundant 'fresh-cut' tartness and the introduction of hibiscus flower, brings sophistication to G&Ts. Influenced by chefs who chose to poach rhubarb in hibiscus flowers to bring out sweetness and tart notes; this pink-hued tonic brings out the best in spiced gins or ginger liqueur cocktails.
Produsent:
Global Brands er ledende innen drink-merkevarebygging både som eier, markedsfører og distributør til en samling drikkevarer på tvers av RTD , brennevin, brus og øl kategorier.
Global Brands ble grunnlagt i England i 1997, og har stor suksess på det britiske markedet. Franklin & Sons softdrinks ble først opprettet av brødrene, George Frederick and Albert Franklin i 1886. Fra a produsere og distribuere softdrinks og tonics fra en liten butikk i Rickmans - la brødrene ut på et oppdrag for å introdusere Victorian Britain med nye smaker og smaksopplevelser hentet fra hele verden.