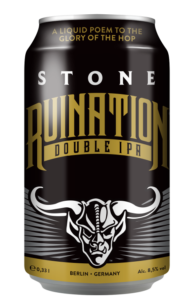 | | |
| --- | --- |
| Vectura nr | 142734 |
| Emballasje | Bokser |
| Antall | 24 |
Stone Ruination Double IPA
USA
Type: Micro/craft øl, IPA / Øl, IPA
Produsent: Stone Brewing
Produkt:
A Liquid Poem to the Glory of the Hop
Stone Brewing produserte denne kraftige og svært aromatiske dobbelt IPA i West Coast stil for å feire alle kjennetegn ved humlen - skjønnhet og poesi, dristighet og makt. Ved hjelp av moderne metoder for tørr hopping og hop sprengning, presses hver siste dråpe av piney, citrus og tropisk essensen fra humlen, noe som gir Stone Ruination Double IPA sin utrolige karakter.
Produsent:
Om Stone Brewing
Grunnlagt av Greg Koch og Steve Wagner i San Diego, California, i 1996, har Stone Brewing kommet langt på vei siden åpningen. De har vært notert på Inc.som 500 av 5000 raskest voksende private selskaper 11 ganger, og har blitt kalt "All-time Top Bryggeri på Planet Earth" av bladet BeerAdvocate bladet to ganger. Stone har også donert mer enn $ 3 millioner dollar til veldedighet. Som det tiende største håndverksbryggeriet i USA og med sine bryggerier i Richmond, Virginia og Berlin, ønsker de å gjøre et forsøk på å vise verden og publikum at det er både mer og bedre utvalg utover industriell øl.
Hva Stone står for
Kjent for sine kraftige, smaksfulle og i stor grad humle-sentriske øl, har de fått et rykte for fantastisk brygging, unike øl og samtidig opprettholde en urokkelig forpliktelse til bærekraft, forretningsetikk, filantropi og bryggekunsten. Stone ser på andre håndverksbryggerier som landsmenn, ikke konkurrenter og omfavner samarbeid, integritet og kvalitet - noe som kjennetegner deres virksomhet.
Navnet Stone & The Gargoyle
Under et rutinemessig forretningsmøte hvor Greg og Steve så på navnene de hadde skriblet ned på et stykke papir, så Greg ordet "stein" og sa: "Hva med Stone Brewing?" Navnet (og dens konnotasjoner - en stein er sterk, naturlig og liten, men kraftig og fast).
Gargoyle; Foruten å være hugget i stein, er dette den europeiske inspirasjonen bak noen av deres første øl, og er et symbol ment å skremme bort onde ånder. I Stones tilfelle, billige ingredienser, pasteurisering og kjemiske tilsetningsstoffer. Dagens onde ånder av øl!
Bruk av alkohol kan gi ulike skadevirkninger. Mer informasjon;
klikk her