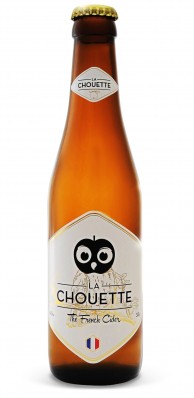 | | |
| --- | --- |
| Vectura ID | 137174 |
| EPD ID | 4157020 |
| Packaging | bottles |
| Quantity | 12 |
Type: Cider/RTD, Cider
Producer: La Chouette
Product:
La Chouette is a semi-sweet craft apple cider at 4.5% alc/vol, produced and bottled in Normandy, France. As a 'pure apple juice' cider (or "cidre"), La Chouette is not made from reconstituted apple juice and contains no added sugar, water, colouring or flavouring. La Chouette is naturally gluten-free.
Made from a selection of apples from traditional orchards around Mont-Saint-Michel, La Chouette will surprise you with its natural golden colour and pristine apple flavour, fruit of the French savoir-faire.
Best served chilled at 8°C. Santé !
Producer:
«La Chouette» - som betyr "uglen" på fransk - refererer til den overraskende forbindelsen mellom nattfugl og fransk cider.
I tradisjonens tro, laget mange bønder i Nord-Vest-Frankrike sin egen cider med epler fra sine frukthager. Faktisk ble cider laget i fjøs hvor ugler kan ofte kunne observeres under taket.
Bruk av alkohol kan gi ulike skadevirkninger. Mer informasjon;
klikk her